In the second part of my interview with Alexander Rossi, (part 1) we continued to talk more about what it's like to be American rookie on the grid, and he gave his thoughts on overcoming doubts and how the sport can grow in the United States.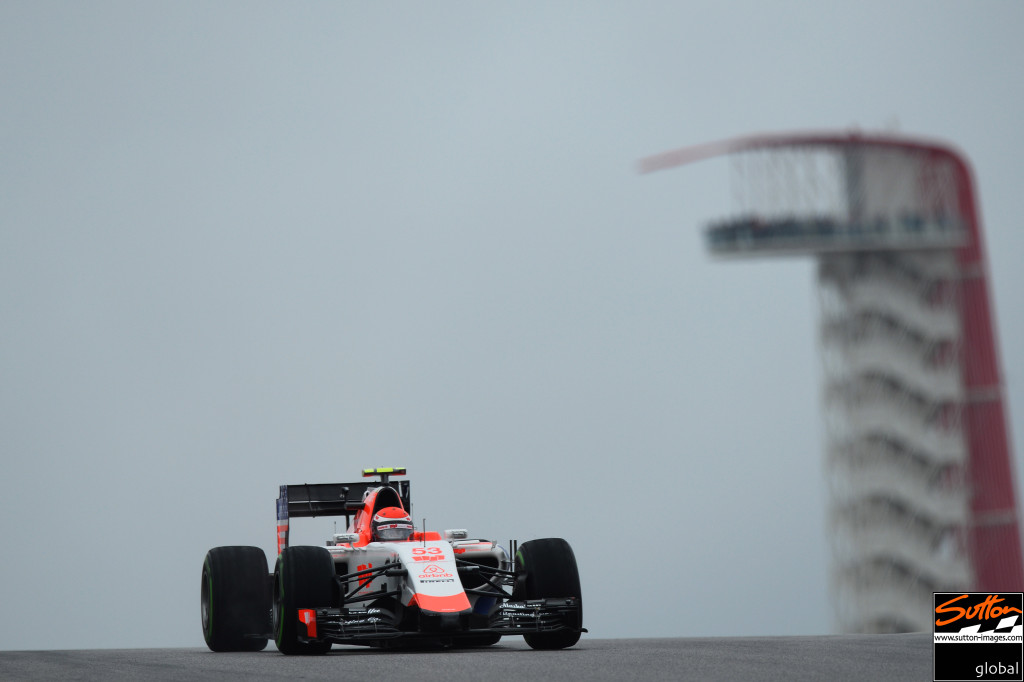 Q: What is your mindset like as a rookie on the Formula 1 grid?
You arrive here and its like we're here now, but the day we arrived in Singapore (Alexander's F1 debut) we had to start proving ourselves, showing that we deserve to be here, and so you've really never arrived in this sport unless you're a Lewis or a Fernando or a Jenson, its when you have enough status in the sport that if you have a bad year, it doesn't really matter because you're already a world champion. For me, it's not the case, if I have a bad race I have to find a way to recover from that. So from that standpoint its hard to really enjoy it all the time. You're always turning the page, and you keep going, but it's fun. As I said before, I'm competitive, so I enjoy it and it's how I run my life, even away from motorsports. Whether its in the gym or on the track, there's a target to improve every day, and to be better than the last day. For me, I love it and its a part of why I love the sport.
Overcoming obstacles has been a consistent theme the past few years for Alexander on his path to driving with Manor F1 Team, even his first ever session as a reserve driver during a grand prix at Circuit of the Americas didn't happen when the safety helicopter failed to turn up at the beginning of FP1 in 2013. After that bit of foreshadowing, last year his team failed to turn up at the USGP due to financial pressures, but this year (weather permitting) he'll be racing on Sunday.
Q: Now that you're getting closer to a full time drive, what do you think has sustained you to keep on pushing despite all the setbacks you've had? Sheer momentum?
It wasn't momentum, because if you look at 2014, we didn't have any momentum. If you look at me as a stock value a year ago we were nowhere. 2011 was a solid year in Europe for me, 2012 was horrendous, 2013 wasn't that great in my opinion but as a rookie in GP2 it was quite a strong year. So we were going into 2014 with the expectation of winning the championship and I ended up with no points in the first 6 races, which felt like a meltdown. That team was then sold on and I joined Marussia, where we ended up having to come to terms with what ended up happening in Japan, then showing up in Austin without a drive. There was no momentum. It was hard, and thats why the shift to Indycar began to happen, and honestly it was by the grace of God that we got the phone call from Racing Engineering, because we weren't looking at GP2, and I wasn't going to go back to GP2 with a noncompetitive team. But then, that changed. It was still debate as to whether we were going to go GP2 or take an Indycar deal which was at the time a safer option, because if we went with a championship winning GP2 team and didn't produce the results, there was nothing to fall back on, and that would make getting a 2016 Indycar ride more difficult. At the same time, it was like, we've worked this hard to get to F1, and to get to F1 you really need to be in GP2, or at least in Europe, and we had come this far, so that was the decision we made. It all happened in a two week time period, and I went from looking at places to live in Chicago to jumping on a plane to Spain.
Q: Looking at all the ingredients that go into making the sport more popular in America, an American driver is a key ingredient, and do you see yourself as an ambassador for F1?
I've seen myself as a US ambassador for the sport for the past four years now. The American audience has so many other competing forms of entertainment that Formula 1 has really struggled to break through. Having the race here has helped dramatically, but then the next step was always, OK, we need an American driver. We have that now, and the next step is an American team, which we'll have next year. All the boxes are being ticked, but still, its not going to become a household sport until either the driver or the team is winning. The American fanbase will grow, but the person you meet on the street won't know about Formula 1 until an American is winning.
Q: What advice can you offer to Americans out at the karting track today with their dads, maybe out of the back of a pickup truck?
I think the biggest thing is have a plan, which is great, but realize its not going to go according to your plan at all. My 10 year plan when I started out in karting was to be in Formula 1 at 20 years old. That clearly didn't happen, I was four years late, but that doesn't mean you don't stop. You keep trying different ways and different avenues and if its something you actually want to do, it is possible. Everything's possible, and we've proven that when at times it seemed like there was no chance. When there was a team disappearing from the grid, two cars going away, I started this season with no Formula 1 connections – and now look where we are. That wasn't the plan, it just came together. To be here takes a full commitment also, not just from the driver but from family as well, and mine sacrificed pretty much everything. It was a group effort from not only my parents but also from my grandmother, and they all believed they could make this happen, and I'd say they're 95% of the reason why I'm here today.