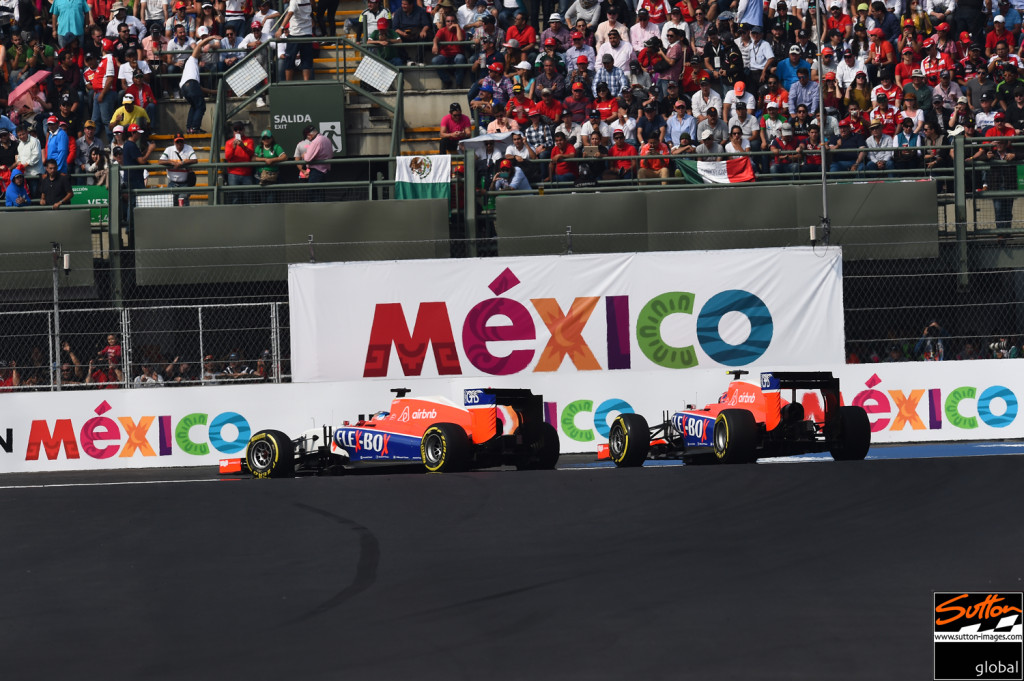 Hours before the Mexican Grand Prix and less than a week after he learned that Manor F1 Team was parting ways with the leaders that brought him on board for his first drive in the sport, Alexander Rossi was once again in the midst of change and instability in his career, now as current Formula 1 driver. (Read more about Alexander's journey to Formula 1: Part 1, Part 2) I asked him about his ability to manage all the rapid changes happening around him this season and his focus on racing.
I've focused a lot on compartmentalizing this year, especially in the off season last year when there was the potential that I wasn't going to be in Europe and I was looking at different options. So when I got the opportunity to come back to Europe this year and to race in GP2 it was something I was so thankful for I focused on each weekend and enjoying the experience while not letting the thought of what the potential outcome could be dictate how I was performing. It was just about getting the job done that weekend and taking it one day at a time. I've approached my Formula 1 experience the same way: Friday I need to do certain things, Saturday I have to outqualify my teammate, and Sunday I have to beat him. I take that at what it is, and I don't think about Sunday on Friday. In the same way, I don't think about my GP2 race in Bahrain in 2 weeks, and this weekend I don't think about 2016 because I don't allow myself to do that.
How have you been able to develop that ability?
A lot of that ability to compartmentalize has come from working with a sports psychologist this year, and that's one of the main things we've been focusing on in terms of my development. I've found that when I get into a race car and only have to think about one thing I have to do that day, my performance is better, because my mind isn't going in a million places. It especially helps in Formula 1 because there are a lot more things that are going on besides just driving the race car. To be able to get into the car and not think about the external factors is a big plus for me, personally. On top of that, I work very closely with my father, who works three jobs. He's the master of doing that, so being able to see that on a daily basis, I'm able to learn from him first hand and emulate him as much as I can in my own life.
Managing the risks in a Formula 1 car means understanding what you can control and what you cannot. This year's Manor F1 cars currently run last year's engine spec from Ferrari, considered to be down roughly 50 horsepower to this year's engines. Regardless, when you're racing a Formula 1 car, you're racing to win, and once you're in the car, there are things a driver can contribute, as well as the risks and limitations inherent to or outside the car. I asked Alex how he manages his ability on the track.
The biggest thing I have control over is driving the race car, and it's my responsibility to get the results on track. In a sport that is very dominated by business, my performance on the track is the primary motivating factor for teams to look at drivers. For me, that has to be the primary focus at all times. In a GP2 car, I might be willing to take a bit more risks than I would in the Manor F1 Team car, because a risk in a race environment in a Manor F1 car at the moment won't get me anything, really, because if I do make something happen on lap 1 of a race, its not going to be sustainable over 71 laps. If I have a shot at someone into turn 1, is there a point? Probably not, unless it's with my team mate. That changes things a little bit but at the same time its critical for the team to get both cars to the finish. Everything is a little bit about risk management, and like anything in life, its the same thing I've done with my career.
Alexander out qualified his teammate, Will Stevens, and despite a difficult race setup, managed to overtake his teammate today in the closing laps of the Mexican Grand Prix, defeating Stevens for the fourth time in as many races together. Alex will be on the grid next with Manor F1 Team again at the Brazilian Grand Prix November 15th, and with his GP2 team, Racing Engineering, in Bahrain November 21st.