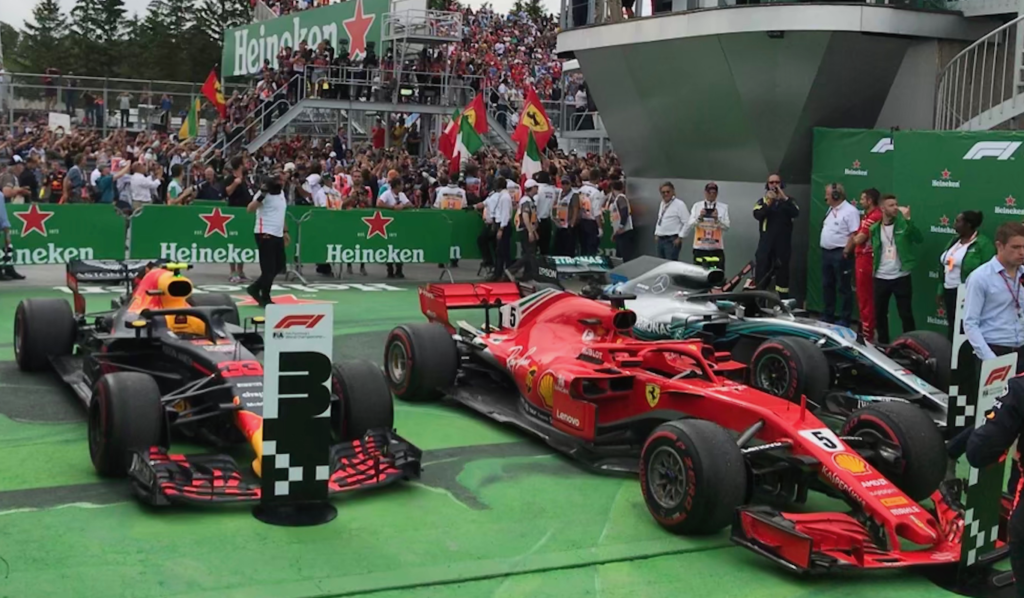 Sebastian Vettel regained his championship lead today in Montreal after a dominant drive at the Circuit Gilles Villeneuve, 40 years after its namesake took his maiden win in a Ferrari there.
Today's emotional win for the team came after setting their driver up with the fastest car in qualifying yesterday, taking P1 with a new course record of 1:10.764. It was his 50th win in Formula 1, and the team's first victory in Canada since 2004 with Michael Schumacher.
"40 years after Gilles won his grand prix here, I think it's great to show that Ferrari is still alive, that Ferrari is still there, winning races." said Vettel. He then dedicated the victory to the team and fans in Montreal.
Finishing just behind and qualifying just under a tenth of a second behind Vettel, Mercedes-AMG Petronas driver Valttieri Bottas explained that "second place as a driver when you really want to win races is not the best place to be – but you know, honestly from today where we started, with the start we had, with the pace we had, there was nothing more possible."
Red Bull Racing driver Max Verstappen finished third and had to pit early in the race after his hypersoft tires began to cost him time. After switching to the harder supersofts, he told journalists: "[he] was steadily closing the gap, and especially the last few laps I think we were really competitive. I think it was only one-tenth on the line, which was a shame, but yeah, good race. I enjoyed it."
One surprise today at the finish happened when one of the many celebrities on hand in the paddock was chosen to wave the checkered flag, and did so 1 lap before the end, causing spectators to wonder if the race had been called a lap early. Sebastian, Valttieri and Max all deferred to others in charge to make a call on future guest flag wavers, but the sentiment from the media present at the circuit clearly sided with the idea that it may be an idea whose time has passed.
The racing this weekend was a bit reminiscent of the 2004 era when Ferrari last won at the circuit, with Vettel controlling the race lead from lights out through *both* checkered flags. An early clash between rookies Lance Stroll and Brendan Hartley on the opening lap saw the hometown favorite Stroll move to the outside at turn 5, forcing Hartley up the barrier and taking both out of the race.
In addition to Vettel's 50th victory, this race also marked McLaren driver Fernando Alonso's 300th start, one which saw him run with the team's new Renault 'B-spec' engine installed for Montreal. Unceremoniously, Alonso's McLaren experienced exhaust failure on lap 42, and retired.
Tire strategies varied across the grid, and preservation figured heavily as many hoped for a second safety car to shuffle the running order, Haas F1 Team's Romain Grosjean among them. Grosjean, who suffered from engine issues in the opening minute of qualifying yesterday and failed to set a time, drove his way from last through nearly half the field to take 12th, just ahead of his teammate Kevin Magnussen. Grosjean commented after the race: "…we tried to come back, [after pitting on lap 49] but our strategy didn't quite work. When we came out of the pit we had a lot of blue flags and so on. We couldn't really come back through the field. We did our best. The car is fast and I enjoyed driving it."
A relatively uneventful second half of today's race following a processional Monaco Grand Prix two weeks ago called into question the spectator experience, and when the drivers were asked why fans didn't see a more exciting race, Sebastian Vettel replied: "Life's like this, or racing. Racing's probably like this. I don't think it's justified to criticize the racing, or criticize this race… From my point of view, obviously, it's still busy inside the car no matter where you are but I don't like… I don't know why people today are so short-sighted… next week the World Cup is starting and I promise you that a lot of the games will not be exciting – but still people will watch it – but some games will be incredible."
Valttieri Bottas added: "For me it was, at the second place all the time, all through the race. I think Turns One and Two was quite exciting with Max, that was good fun but yeah, since then, for us, we really tried to push Ferrari in the first stint – but we just couldn't match the pace." Complacency was not a problem, he explained: "There is always something to do, and we needed to keep concentrated 100 percent – so yeah, for sure, there will be good races, there's no doubt it's just we've had a couple of races in a row where there is not many things happening – but this year already there have been races that have been amazing to watch."
Third place finisher Max Verstappen has had a run of misfortune so far this season, and he faced increased scrutiny this weekend after a crash in Monaco took him out of the race there. Today's podium finish could signal a shift, and just to keep things interesting at one point the 20-year-old turned to Vettel after he was asked about driving for Ferrari in the future:
"How old is Kimi? . . . 37, 38? He could be my Dad. I don't know, time will tell. I have a contract with Red Bull and I'm very happy where I am at the moment and also, you know, we have a great car but I'm just waiting for the full package to be able to challenge every single weekend for victories, because in Monaco, I would not want to change car because we had the best car and package there. It is very tricky. It is a very special brand and I'm only 20 years old so if Kimi is 37 or 38, I still have 17 or 18 years to do something so we will see."
Finishing order, Driver, Constructor, Time (gap), Season Points Total:
1 S. Vettel Ferrari 1:28:31.377 25
2 V. Bottas Mercedes +7.376s 18
3 M. Verstappen Red Bull +8.360s 15
4 D. Ricciardo Red Bull +20.892s 12
5 L. Hamilton Mercedes +21.559s 10
6 K. Räikkönen Ferrari +27.184s 8
7 N. Hülkenberg Renault +1 Lap 6
8 C. Sainz Jr. Renault +1 Lap 4
9 E. Ocon Force India +1 Lap 2
10 C. Leclerc Sauber +1 Lap 1
11 P. Gasly Toro Rosso +1 Lap 0
12 R. Grosjean Haas +1 Lap 0
13 K. Magnussen Haas +1 Lap 0
14 S. Pérez Force India +1 Lap 0
15 M. Ericsson Sauber +2 Laps 0
16 S. Vandoorne McLaren +2 Laps 0
17 S. Sirotkin Williams +2 Laps 0
18 F. Alonso McLaren DNF 0
19 B. Hartley Toro Rosso DNF 0
20 L. Stroll Williams DNF 0