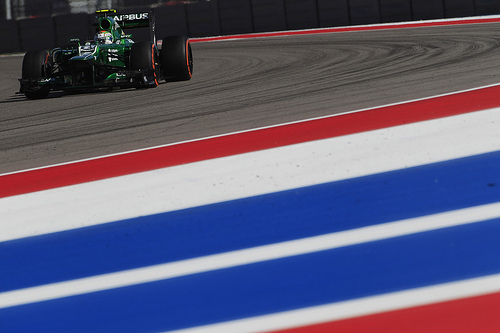 Circuit of The Americas has been building a home for Formula 1 in America, and this weekend marks the second year of the race in Austin, Texas.  Sellout crowds last year demonstrated how teams, drivers and fans have embraced F1's newest circuit and surrounding city at this global sporting event.
Austin is in the exclusive company of 19 other cities around the world that will host an F1 race this year, and while signs this weekend are showing that America can produce an F1 event that attracts and builds an audience, there is still one thing missing:  A hometown hero.  Americans have been competing with the world on four wheels since the days of the first automobile, but more accessible opportunities to drive in US-based racing series have typically kept American driving talent closer to home in IndyCar and NASCAR.
Formula 1's annual visit to Austin has now become a focal point for discussion around what it can do to bring the right opportunity for a driver to compete in front of a hometown audience.  In Friday's first practice session, Caterham F1 Team's reserve driver,  Californian Alexander Rossi, drove, besting his teammate Charles Pic by over half a second, and marked the first time an American drove in a grand prix weekend in front of his home audience in nearly six and a half years.
In attendance this weekend at the circuit are Alex's family, friends, and many supporters, as well as the last American to win a title in Formula 1, Circuit of The Americas ambassador Mario Andretti, who said:
"Everyone seemed to be awaiting [Rossi's session] . . . I came in this morning, and Helmut Marko (Red Bull Racing) approaches me and asked 'Why don't we have an American driver?   Do you know of any youngster maybe around 16 to 17 that you could see could be a good prospect?'  . . . The teams are beginning to think in those terms."
Broadening a foundation of support for Formula 1 in America is a topic of much discussion in the paddock this weekend as sponsors and teams measure the impact that their appearances on and off the track have with the public.  Sponsorship is the lifeblood of racing, and conventional wisdom up and down the paddock is that the U.S. is a key market for the continued success of F1, with teams here actively looking for American opportunity and talent to compete at the highest level.  Mario continued:
"To have a venue like this now that is going to be hosting Formula 1, and a solid home in the United States – that can play a very big in my opinion in advancing that spirit."
Corporate sponsorship has always been a key part of getting into F1 for any American driver, and while team budgets and use of technology has grown since Mario's years of racing in the sport, for him, there's something more about representing one's country on the track:
"I remember when I was in Formula 1, there was a special, a different sort of pride that went along with bringing the results because you were making your country proud as well.  It was like being in the Olympics."