I've been organizing Formula 1 events in the San Francisco Bay Area since 2005, with race viewing parties numbering over 100 at last count. Safe to say, I've brought more F1 fans to view races together as a group in the US than any other single person, and one of the best things I've been able to do with our 1,500+ person group is bring everyone out to local car collections, museums, and events.
It's quite a bit of work putting together a group of racing fans – something I've learned firsthand – but like any group of passionate people, when you get them together to enjoy a special event, it's really something to see so many happy faces. Last night was just such an event, as members of our group visited Vijay Mallya's private car collection, located just North of San Francisco.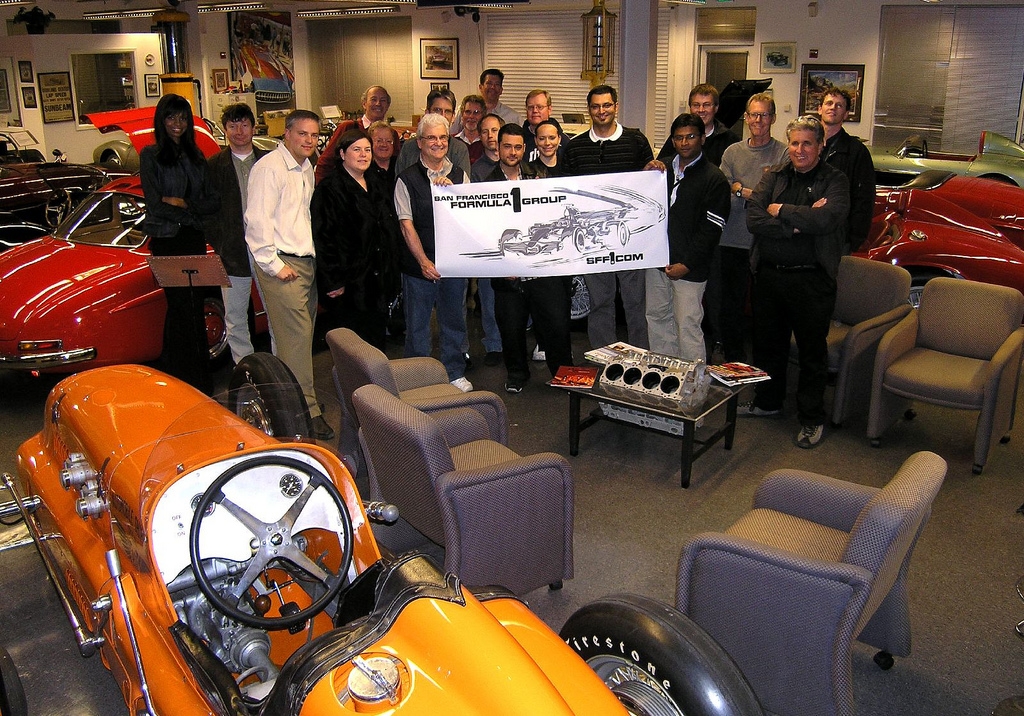 The Force India F1 Team principal has over 200 cars in his collection worldwide, and all fall under the care and direction of Malcolm Page, curator. I met Malcolm in 2008 when I introduced our group and brought a group of F1 fans to see the cars, and we've been lucky to have an enthusiastic supporter open the doors more than once to such an interesting and important collection.
Malcolm's background in automobiles and racing brought him to the position of Vijay Mallya's collection curator after his development of the Porsche 962CR – a rare supercar that sped its way through development at Malcolm's direction at the peak of the supercar market in the early 90's. After the project was put on hiatus, Malcolm answered an Autosport ad seeking a curator of classic racing and vintage cars along with 150 other applicants, and was selected by Vijay Mallya to oversee the entire collection.
Our group tour began when we met Malcolm at the home of the VJM002 chassis that Giancarlo Fisichella took to the pole at Spa in 2009. This only just arrived in the US in May of this year, and according to Malcolm, this chassis is currently the most recent example of an F1 car in the United States. For many in our group who follow the sport, this was the first time many had seen a recent spec car in person. This chassis also had special significance to our group as it was also the very one local racing hero J.R. Hildebrand took his test in last December in Jerez.
Only a portion of the total collection is located in the US, with many cars remaining in India under orders from the State. Considered national treasures by the Indian Government, many of Vijay's cars will never leave the country. For our group, Malcolm was able to accommodate a small gathering at the collections' home where everyone enjoyed photographing and admiring beautiful original examples.
Recently displayed at the 2010 Pebble Beach Concours d'Elegance, a 1955 Porsche 550 Spyder sits in the collection, the last to be built, it is considered to be the most original example in existence. Nearby, a stunning 1966 Ferrari 365 California Spyder (one of 14 built) sits just beside a 1954 Jaguar D type works Le Mans car – all under the constant care of Malcolm.
Special thanks to Malcolm for making our visit possible, and for more on Malcolm and the rest of the cars in the collection, please visit the collection's website, many of our group's photos from past visits are available on the Mallya Collection Facebook group.