The San Francisco Formula 1 community has been watching every Grand Prix together since 2005 in a number of locations around the city. From humble grassroots at a neighborhood bar in North Beach, it has grown in reach to over 4,000 members around Northern California and hosted hundreds of watch parties and special events with friends and fans. Representing nearly every era of the sport and background of society, it has grown organically over the years and become an example to other cities across the US who also organize and unite followers of Formula 1.
When Formula 1 stopped racing on American soil from 2008 – 2011, the San Francisco Formula 1 community brought more people together to watch the sport than any other series of US events. Amazing to think what the profile of Formula 1 was like in America just over 10 years ago, but today the sport's growth is on the rise thanks to a new era of ownership with Liberty Media, and a few other developments along the way, not least of which has been the Drive To Survive series on Netflix.
Due to the global nature of Formula 1, watch parties aren't set at the same time every weekend, or even the same day of the week, so the organizational side of keeping a regular event takes some planning, communication, and sometimes a change of venue entirely, depending on where and when races are broadcast. It's a balancing act that Formula 1 has been striving to get better at with US audiences in mind, particularly on the West Coast, as European and Middle East start times can make for an early Sunday morning for the F1 faithful.
Several race start times align well with San Francisco, with reasonable morning and afternoon starts for the North American races, both Japan and Australia start around 10pm Saturday night. Normally these times make for the largest turnouts of the year, and this past weekend was no exception. With the baseball season a little slow to start on a clear Spring evening, the Australian Grand Prix watch party brought out over 300 Formula 1 fans to our regular viewing spot, Kezar Pub, in the Lower Haight this past Saturday.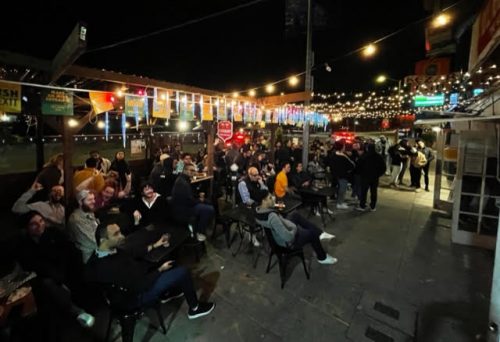 With the business at capacity and 100 fans watching in open air sidewalk seating, this race instantly became a new high water mark for San Francisco's Formula 1 watch parties. Typically 150 or so would be out for a traditional season opener from Melbourne, so this has been a significant increase for an early season race. Speaking to members who drove more than an hour from home to join the group, it was absolutely worth the drive and an eye opener for them to be in a room full of fellow F1 community members. After the race, I caught up with long time members Jaime and his son Marco, we all laughed remembering how much Marco had grown since coming to the races with his dad as a kid over a decade ago.