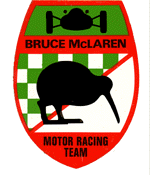 I had the opportunity on a recent road trip through New Zealand to visit the Bruce McLaren Trust. My visit made for an afternoon full of memories of Bruce, his legacy, and life growing up above a service station in an Auckland suburb.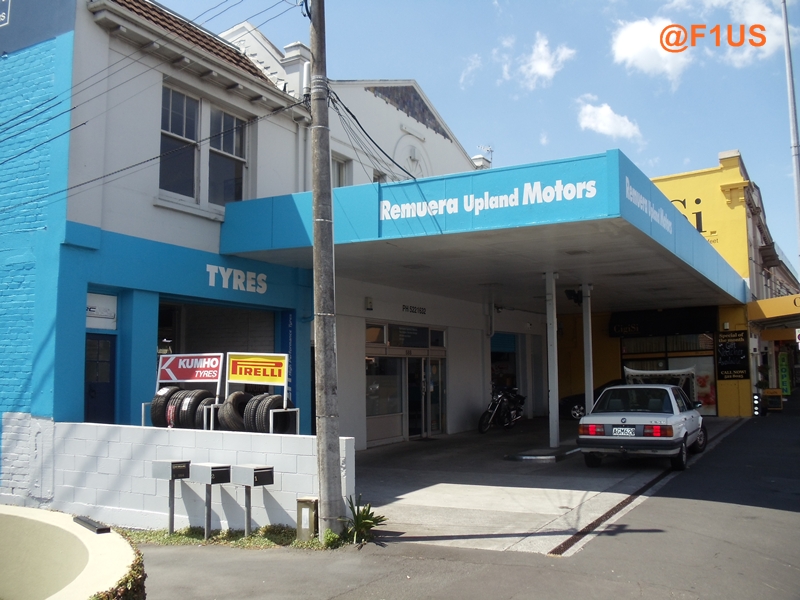 Just a short drive up the hill from the local motorway, this inconspicuous building marks genesis – the spot where Bruce McLaren's boyhood home met the world of his father's service station beneath. This small neighborhood service station is the childhood home of Bruce McLaren, and currently home to the Trust run by his sister Jan for the preservation of his memory.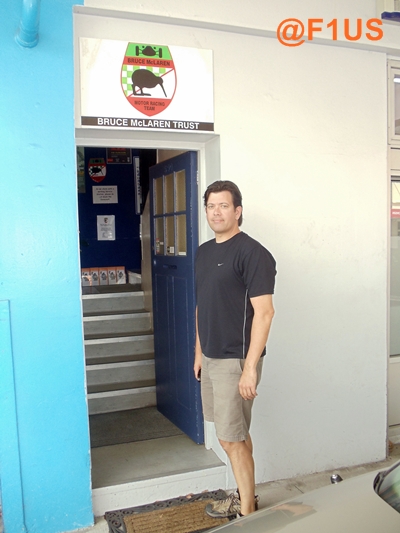 Once inside, a staircase lined with posters, photos, and family memorabilia overwhelmed my girlfriend and I as we walked inside. This was a welcome sight after the long drive we had just made from Wellington, but it was just what I had been imagining we'd come across. Space was extremely tight as this was the small flat Bruce and his family lived in. Every inch of wallspace is covered with important photos, posters, awards, and letters, and helped tell the story of Bruce McLaren's life growing up, absorbing the world of automobiles from childhood.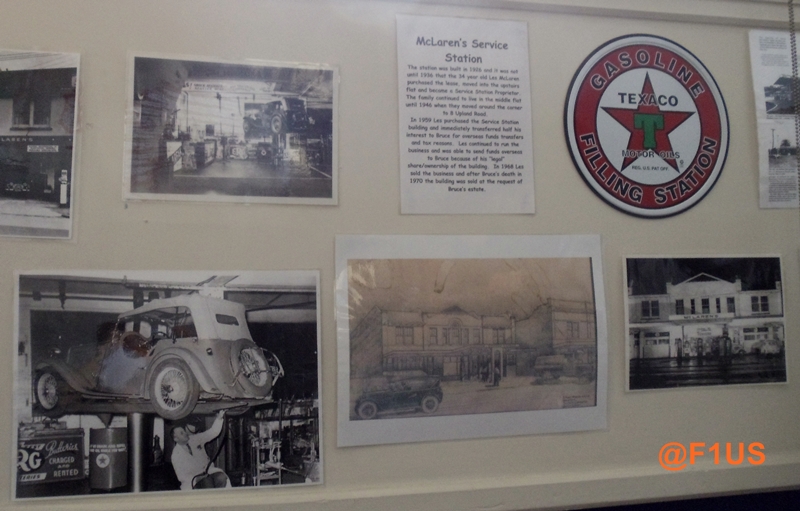 Still a little dazed admiring posters from the old Can Am circuits, a doorbell alerted those above that we'd arrived. We were greeted by David, a volunteer at the Trust who guided us down a main hallway decorated with photos, where we arrived at the 'wall of fame'. This was an amazing signature tribute to Kiwi racing heroes and the people in motorsport who worked with and for Bruce, and are now known simply as the mob – or the 'McLaren Old Boys'.
[youtube=http://www.youtube.com/watch?v=vTAwOcopDNA]
Further down the hallway were posters, trophy cases, and a moment with Bruce's two CanAm trophies from 1967 and 1969, made from a beautiful floating sculpture:
[youtube=http://www.youtube.com/watch?v=ivuq4aHixzA]
Off the main hall, the kitchen serves as offices for Jan McLaren, Bruce's younger sister. Jan is both co-founder and board member of the Trust, and took the time to talk a bit about her brother and the Trust's aims and objectives. McLaren International Limited and the Bruce McLaren Trust have a special relationship which guides the coexistence of the two entities, and the Trust is involved in preserving the memory of New Zealand's legendary driver and his cars through activities both locally and internationally.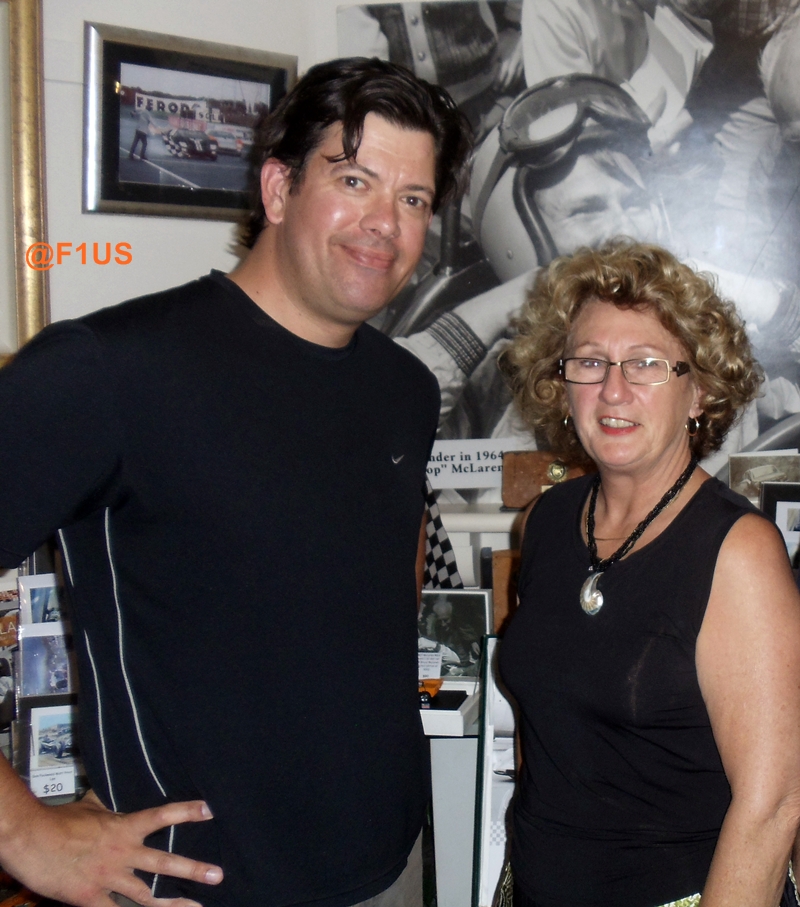 In Jan's office, photos from Bruce's childhood show him as a small boy photographed in the very spot I stood as I admired portraits of a loving family life. Bruce's father ran the garage below, and as I learned more about the family history in their very own home, my visit became more and more engaging. Across the hall from the office was the room Bruce grew up in, where we learned how he would watch the trains outside his bedroom window as they arrived.
Visiting here has to be the most immersed one could get in a legend like Bruce's life, and the amount of personal and team memorabilia throughout the home only helps to reinforce the impact his life had on so many. It wasn't long before a sense of wonder took over when I got a call to the next room to see something from my girlfriend, however . . .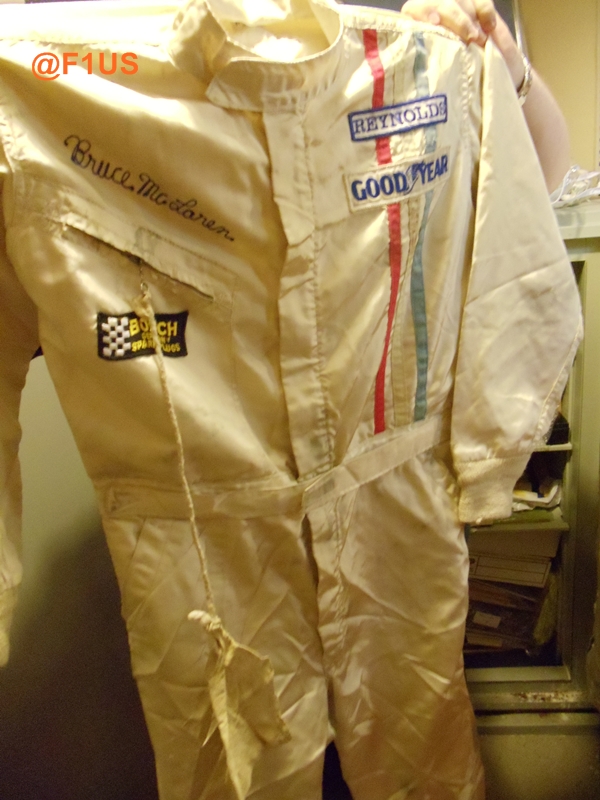 David had shared some crown jewels with us, and while there's plenty of orange treasure throughout, there's also a fair bit of red – with much of the history of the team well taken care of and collected after Bruce's passing in 1970. Along with Bruce's overalls came out none other than James Hunt's firesuit.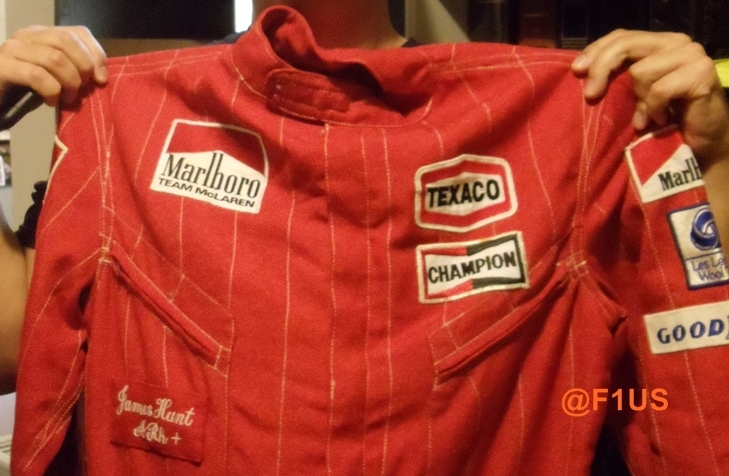 Never have I ever felt more treated to a display of Grand Prix history in such a friendly and enthusiastic way – Jan also took the time with me to talk a little about the Trust and their organization's goals. I'll have edited video posted shortly. It's worth noting that the Sonoma Historics will feature McLaren as their marque this year, and Jan did mention to me she may be planning a visit in June for the event. She also mentioned that progress is being made on the film about Bruce's life, many will be happy to hear.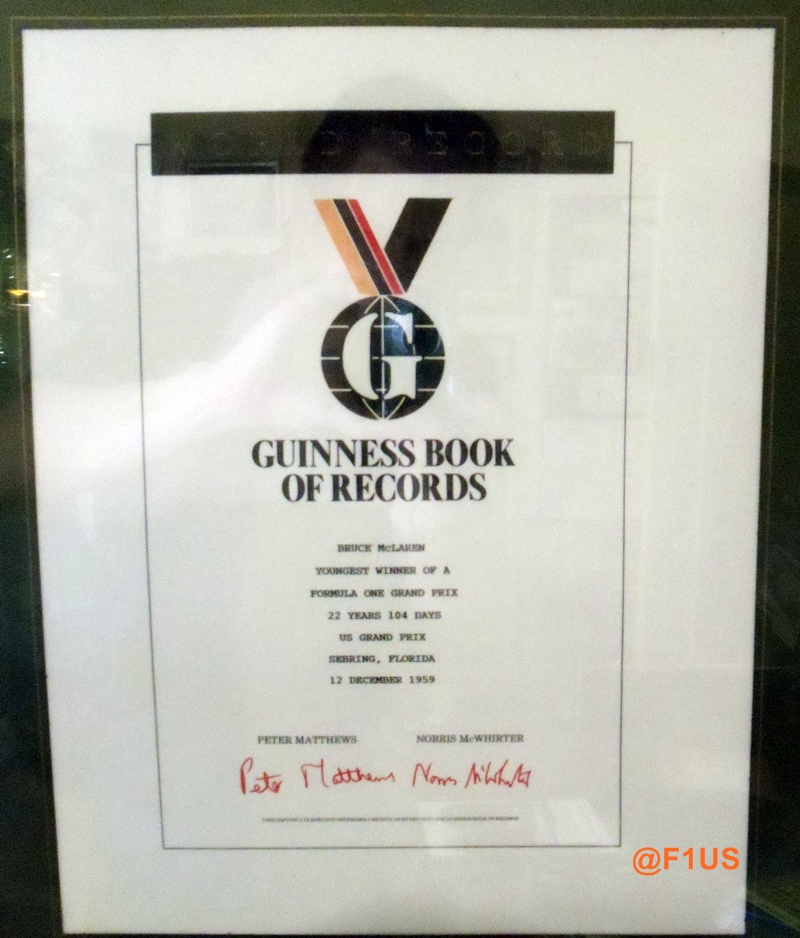 If you do decide to drop by, send an email in advance to the staff to let them know you're coming. Please note that this is a very tight space full of memorabilia, so a small group is nearly too large to accommodate inside. Tour buses are not a fit for the size of the space, but for more information on your trip, or to join the Bruce McLaren Trust, please visit http://bruce-mclaren.com to make a donation. This is truly a special place for racing fans everywhere, and as more donations arrive, they are sure to be able to share Bruce's memory with a wider audience. Their website is currently undergoing a renovation, but check back with the site for more updates and online gift shop in the near future.
After visiting, we stopped off at the grave of Bruce McLaren, located about a 20 minute drive West. I can't imagine what meeting the man in person would have meant, but after my experience at his home and listening to the stories about him from his sister, I know it would have been a brush with greatness.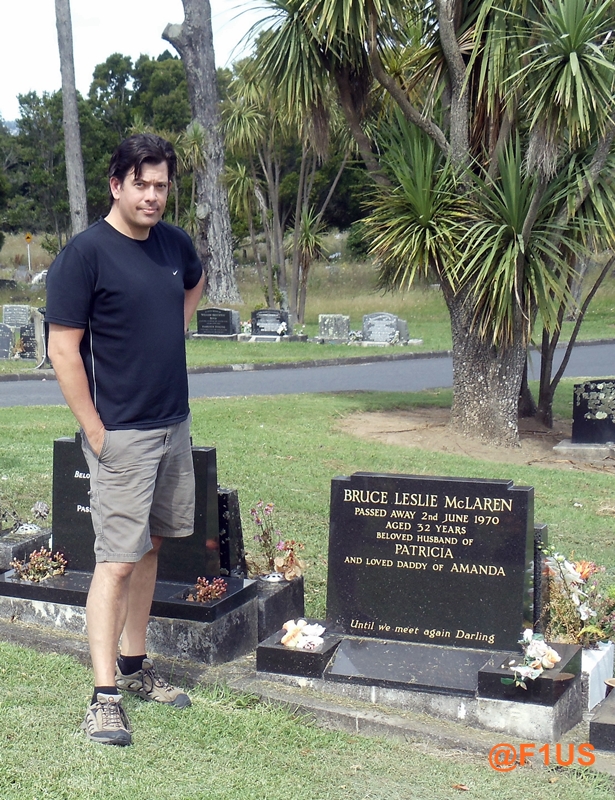 McLaren's longevity as a team is a testament to it's founder, and its history crosses several country borders as well as many nationalities throughout it's existence. Today, racing fans usually associate McLaren with the UK based Formula 1 team, but many may not know that it was an American, Teddy Mayer, who played an important role in the continuation and development of the team after Bruce's passing.
Connecting the dots to McLaren's roots in Auckland, I separated the team's history into three distinct phases, beginning with it's roots with the team's founder, chief designer and driver, Bruce McLaren, who from 1958 – 1970 raced in and then developed a variety of cars, winning his first Grand Prix in 1959 at Sebring, then dominating Can-Am in later years with his own cars. Bruce was tragically killed in a testing accident in his Can-Am car at Goodwood, and American Teddy Mayer (whose late brother Timmy Mayer raced with and for McLaren) led the team at this time.
In this second phase of McLaren, Teddy, through a partnership setup in 1966 with Bruce, grew McLaren Racing Ltd., which developed and raced to win at the Indy 500 and take Can-Am championships while continuing development on their Grand Prix cars. In this era of Cosworth power, James Hunt (1976) and Emerson Fittipaldi (1974) won two world championships with McLaren with Marlboro sponsorship. The distinctive red and white paint would signal the start of phase three at the team, and the arrival of a new regime at McLaren.
Finally, after a period of decline in the team's fortunes on the track, McLaren was merged in a takeover deal involving Project 4, whose F2 and F3 teams led by Ron Dennis had existing sponsorship from Marlboro. My research online shows Ron entered into a partnership with McLaren in September 1980, with Teddy Mayer remaining on board until 1982. The team since has gone on to win quite a bit as the sport's grown and 'evolved'.
Formula 1 is, as ever, about change, but after seeing so much history on display at the Trust, it was remarkable to see this this note of appreciation to Bruce signed by nearly everyone involved with the 1962 United States Grand Prix.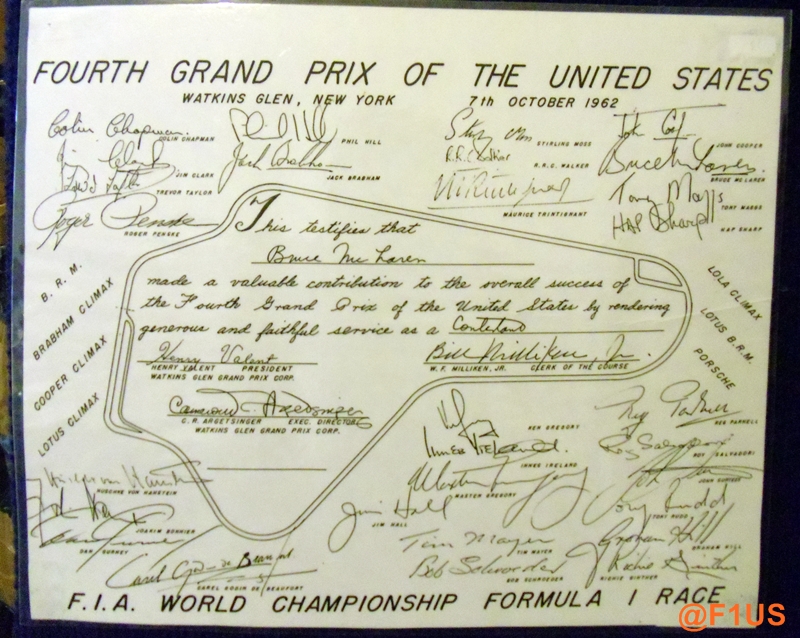 Just a basic thank you note – but it strikes me as an incredible example from history of how racing together forged the unity and sense of kinship felt and shared in Bruce's time. Many thanks to the Bruce McLaren Trust for preserving and displaying these important memories, and special thanks to Jan and David for sharing their afternoon with us.