When the Grand Prix rolls through Circuit of The Americas there won't be a bigger stage in a bigger state for well-heeled Formula 1 fans around the world to make their entrance – Texas style.
For the lucky few, a Grand Prix weekend will include all the trimmings and that means everything from the best seats at the race to the best seats to the race, and for this demand, there's one rental brand Americans are familiar with that's meeting it … abroad, anyway.
Hertz UK has announced they've added the latest Formula 1 inspired car from McLaren Automotive to their lineup at selected locations in the Commonwealth:  The MP4-12C.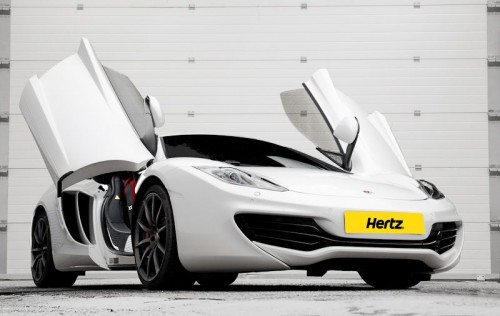 Michel Taride, President, Hertz International and Executive Vice-President, Hertz Corporation, said:
"Hertz aspires to offer truly innovative rental experiences to our customers, and the spell-binding McLaren MP4-12C provides an opportunity of a lifetime to experience Formula 1 race-bred technologies on the road."
Yes, that yellow (ahem, Gold) license plate looks familiar, and in more than one way the numbers are impressive: 0-62 in 3.3 seconds will run you rates starting at £1134.30 (~$1800) for a single day mid-week and range to £906.30 (~$1400) per day for rentals lasting over 28 days.
Stateside, the MP4-12C starts at around $229,000 and the first customer cars were shipped to dealers earlier this year.  America is an important market for McLaren, and their celebrated return to full production road cars brings a brand known for exclusivity and performance to a much wider audience than it's legendary predecessor, the F1.
It's not impossible to imagine a supercar like the MP4-12C available from Hertz especially around an F1 based marketing drive, but typically the American supercar rental market is addressed by smaller niche operations and clubs catering to customers and members through automotive timeshares and exclusive pricing.  In this case, Hertz UK has partnered with Premiere Velocity, a smaller luxury car rental firm based in London.
Could such a car be offered in Austin from Hertz, Avis or, Dollar Rental?  It will be interesting to see if there's an effort to meet the opportunity.  Imagine a Bentley airport shuttle to whisk you from your airline (or airplane)  to your supercar rental – it sure sounds like a nice way to transport your luggage.