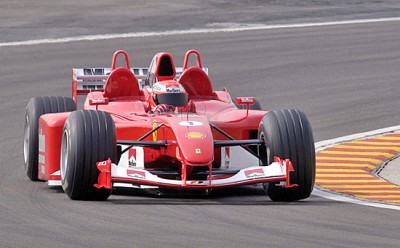 Circuit of The Americas and Pirelli have announced a partnership in a press release today to bring different Formula 1 experiences around the country to promote the upcoming race in November:
Together the two companies have laid out an extensive campaign this year to promote the inaugural 2012 FORMULA 1 UNITED STATES GRAND PRIX™ to fans throughout North America. Some of the initiatives fans can look forward to this year include an interactive show car display in different locations around the country, the recently announced Pirelli GP Challenge powered by SPEED TV and the exclusive Formula GP Experience.
These include an F1 show car tour, which will include a Lotus F1 chassis like that seen at the New York International Auto Show earlier this year as well as a driving simulator in several cities across the US:
Circuit of The Americas and Pirelli will be hosting an F1 Show Car Tour throughout the country this year, with stops throughout Texas in June and July. The display will allow for public viewing of a Lotus F1 show car and a driving simulator experience for fans. This tour will include an F1 car on display in iconic spots around the country and in the state of Texas. Some of these stops include Montreal Crescent Street, the Monterey Classic Car Show in Pebble Beach, Denver, Chicago, Phoenix, Houston, Dallas, Austin, Cleveland and South Florida. One stop in particular is the recently announced Formula Expo in Austin, Texas June 16-17, 2012. Formula Expo will feature over 120,000 square feet of exhibits and demonstrations from top Formula 1™ teams, as well as the companies creating the sport's groundbreaking technology, and it will offer the opportunity to meet some of the F1 drivers. Other locations of the show car display will be released in the coming months.
Already in progress is the Pirelli GP Challenge, an online fantasy league for the 2012 season, but there's more . . .
Circuit of The Americas and Pirelli will also host the Formula GP Experience, the only Formula One™ riding experience for fans in North America. This will serve as the ultimate in F1 experiences and will allow racing fans to ride alongside an F1™ driver inside a modified 3-seater F1 race car. Only four of these cars exist in the world, two of which will be used in Austin, Texas, at the Driveway Austin during race weekend in November.

The cars allow ardent fans the chance to experience what it's like to be an F1 driver. The cars go from 0 to 60 miles per hour in only 1.8 seconds, and they reach top speeds of more than 220 miles per hour. Customers can expect an exciting, safe experience as they ride along with some of the most experienced drivers in the world. Formula GP Experience drivers include Derek Hill, F3000 driver and son of Phil Hill, the first US F1™ world Champion; former Indy Car Driver Eric Bachelart; current Red Bull F1 Driver Jaime Alguersuari; and former F1 drivers Paul Belmondo, Eric Van De Poele, and Tiago Monteiro.
The Formula GP Experience will begin in May with a final stop in Austin, Texas, Nov. 16-18, with pricing and registration available at formulagpexperience.com.