This is the first article in a series on a visit to the Port Imperial Circuit from Manhattan's Grand Central Station, you can follow 'F1 in America' on twitter and Facebook for regular updates on this story and more photographs.
With just over a year to go until the flag drops on Formula 1's newest race in Weehawken (aka West New York), it was time to visit this massive project and learn what America's newest F1 venue will have in store for fans and the region next Summer.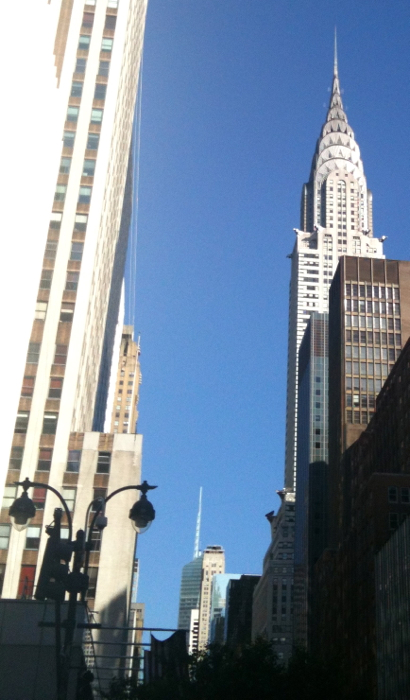 A perfect Friday in May provided the backdrop as I left from Grand Central Station and found a seat on an 8:45am bus ($2.25) down 42nd street, making my way across town towards the westside.  As the bus crossed 10th Avenue and approached the water, the view across the Hudson became clearer between the tall buildings with green trees across the river visible over an area just South of the circuit.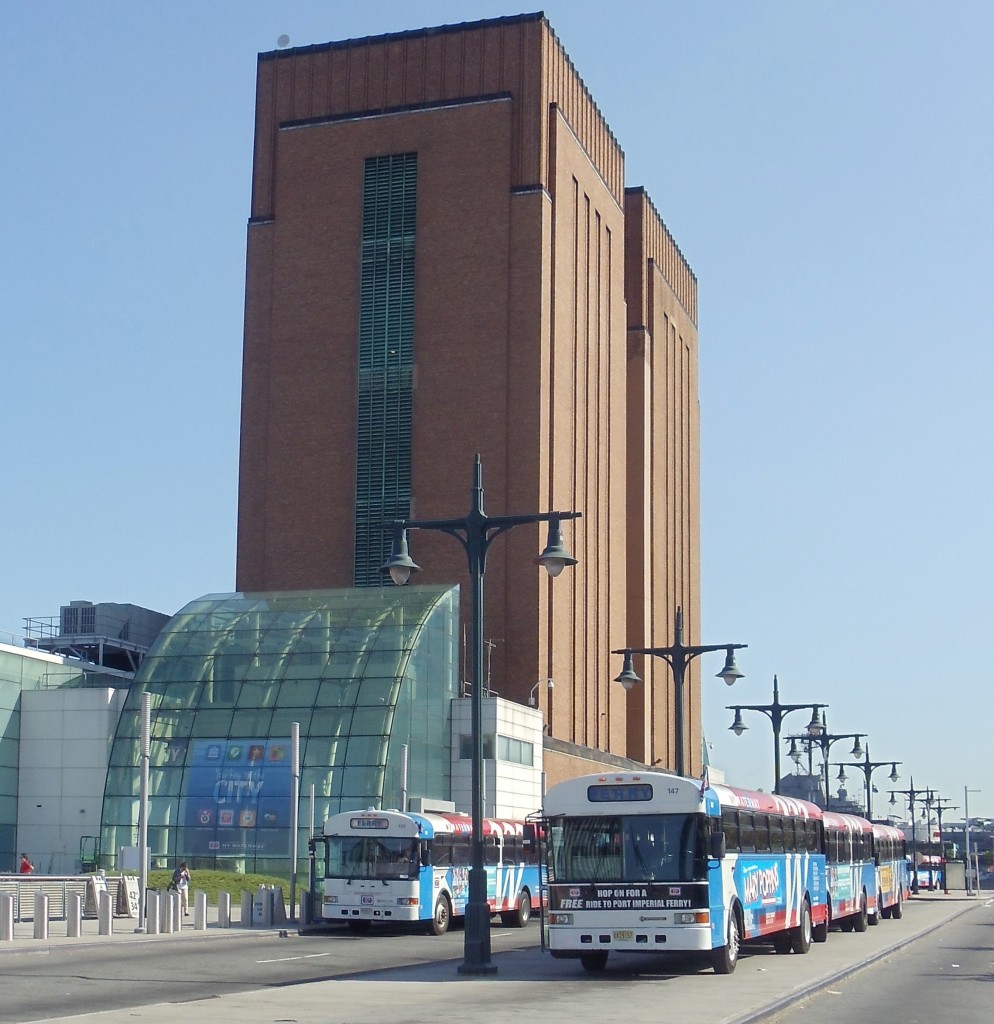 The 39th Street/Midtown ferry terminal was a short walk from the M42/M50 stop, just three blocks away.  There is also a special ferry bus (pictured above) which also stops along a circular route at regular bus stops and this pulls right up to the terminal.  This terminal services seven different routes, and weekday mornings runs every 10 minutes to Port Imperial ($9).  While the terminal was nowhere close to rush hour crowds, I envisioned how some of the 85,000+ spectators might make their way here en route to the track.  Soon after boarding I struck up a a conversation the ship's captain, a very friendly guy who thought that if all six ferrys were operating in unison to the circuit, they should be able to handle the volume of race fans at a decent rate.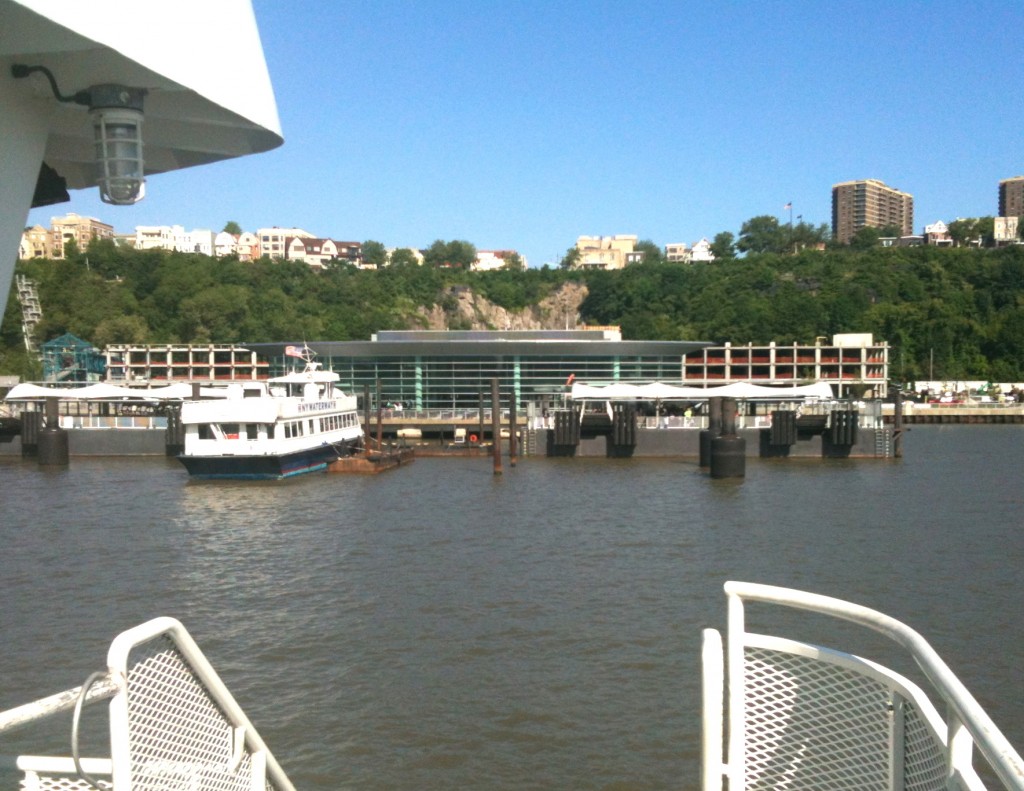 It's a scenic trip across the Hudson, less than 10 minutes long, and the Port Imperial building that greets you is a modern structure of glass and metal.  The pitlane building isn't too far behind it, and the width of concrete structure for it is visible on either side.  There are over a dozen team bays facing the water across from the terminal exit, and the start finish straight/pit lane is located in between.
Before taking a drive around the circuit, I had an appointment with a very gracious civil engineer from Tilke who took the time to discuss the project with plans he had brought with him.  It was my second meeting with a Tilke team member since my visit to Austin last year, and it was a pleasure again asking questions and understanding the project and effort the team's been making to build a race circuit.
As I asked about all kinds of work going on at the track, I kept reminding myself that The Grand Prix of America at Port Imperial was announced only last Fall, so I was impressed to see the pit structure buzzing with activity across from our meeting in the terminal.  There aren't too many more visible signs right now of physical progress on the track, but the scale of the planning involved was made clear by my friend at Tilke.  Working on a huge project such as this with local authorities, utilities and community members impacted directly by street closures and equipment on site is a critical part of the process, and I explained my experiences in San Jose with the 2005 – 2007 Champ Car series races there had given me an appreciation for constructing a street circuit race.
After a long chat I thanked him again, and took a look outside at the start finish straight sandwiched between ferry building and pitlane: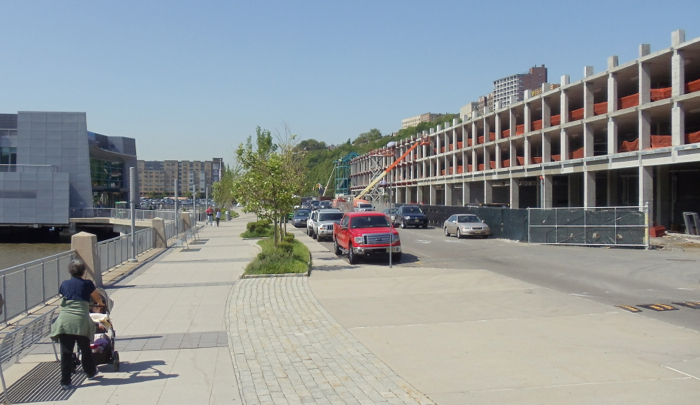 This photo shows the current layout of the street and landscaping with sidewalk, and it's understood that much of this will be moved to make way for the grand prix circuit's path and pitlane, including track wall structures.  One way this race is going to be impacting the community will be by changing public spaces such as these, so it is helpful to see how street circuit pitlanes have been designed in the past and what they look like when not in use.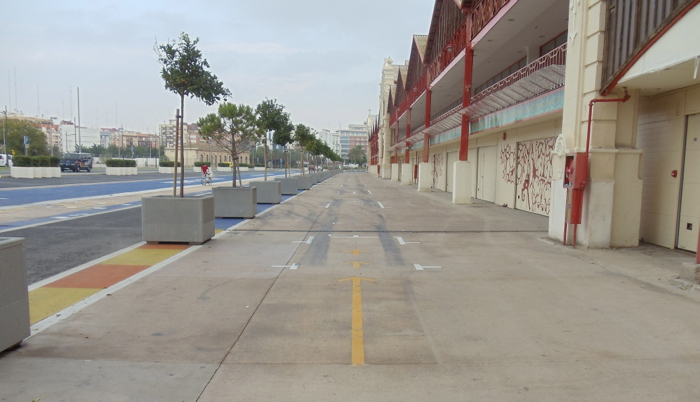 This area of the Valencia circuit has been converted for public use with bicycle lanes and pedestrian traffic on the pit lane and boxes, with mobile landscaping and benches along the way to create space for public use when the track is not in service.  Part of the challenge creating a street circuit on public roads involves providing for the use of the space for when the site is not active as a racing venue, something that can be a key factor in the race's long term success.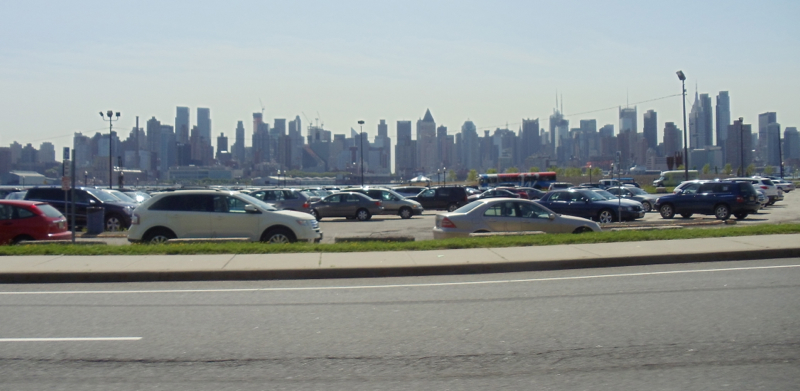 Driving down the main straight and looking driver's left, the amazing skyline of Manhattan is a beautiful backdrop for this circuit – and one of the main selling points for this location.  Turn 1 begins a series of left-right-left turns lined with grandstands before running up JFK drive.
My next post will cover the drive up the hill, and challenges Tilke's engineers face with creating a usable public road surface and Formula 1 race track.  (Part 2 here) To get more familiar with the circuit, here's a copy of the complete layout (.pdf) that you can also download:
Port Imperial F1 Street Circuit Master