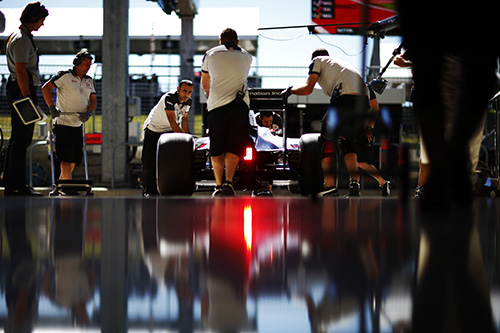 Stewart Haas racing's VP of competition, Greg Zipadelli, visited the Circuit of the Americas before heading to Talladega for Saturday's NASCAR Sprint Cup race and took some time to look around and observe a Friday in Formula 1 with Haas F1 Team. Listening to radio communications with a different set of racing experiences coming from stock cars, Greg sat down to share some of what he saw on his first visit to an F1 paddock:
"For myself, this is something different. I've grown up with all forms of racing and different series, but you know F1 is looked at as kind of the ultimate. It's all over the world. The way they do things for me is interesting. This is my first time at race, and I'm here this weekend just to look around. I just find it very interesting how they do things. Obviously there are rules and the way things are done that allow them to do stuff a lot differently than we do in NASCAR and I love racing, so it's interesting and I had the opportunity because it is in the United States."
With so much specialization and technology in Formula 1, I asked Greg if there was anything he saw that would give him an idea how to do things differently on the NASCAR side?
"I'm mainly observing and trying to figure out how they do things, then there's the next step: Can you take any of it and apply any of it? I got to join their debrief, listen to how they talk, and it's similar to what we do. Obviously they have a lot more data to process, so there's a lot more people who have a little bit more of a particular job to do. In our series, we don't have data on race weekends, we get a throttle trace, a brake, and steer through our EFI data, but it's not live. We have to download it, and it's more basic compared to what Formula 1 has here."
With all the specialization in roles and triple the crew members involved in a F1 pitstop, I was curious to know if there was one tool that Greg saw that he wished he had the most in NASCAR:
"The data, logging, and the way that they do things here. But that does take a huge element of the unknown out from our standpoint. I'm listening to [Haas F1 Team] talk about where everyone is on the track using GPS. If an F1 driver tells the team he's feeling an issue with the car they can go back and find it in the data logged. In [NASCAR] we have to go off of what the driver tells us, so you can't look back and find brake issues that were talking about, or that one lap where they locked the brakes up. We don't have that, so a lot of it is about the driver, the driver's attitude and focus on that day – that's our data acquisition system."
Interesting to note that at the heart of a NASCAR team's success – the open radio communication between driver and crew chief – has lied the source of controversy in Formula 1 over team orders and profanity over live air for fans. Before he was VP of Competition at Stewart Haas Racing, Greg served as crew chief mainly with Tony Stewart in the longest crew chief-driver pairings in the sport's history. Greg went on to add the significance of this relationship, and what having more data might mean for motorsport:
"I think the driver and crew chief's relationship, their willingness to be very open and candid with each other. Here I look at it as everything you can control, how much fuel the car is burning, etc. In NASCAR we tell a driver to save fuel and he spots a light pole along the wall and lifts 200 or 300 feet earlier. We then try to do the math and figure it out with a calculator. Here in F1 they are watching [fuel consumption] live, so I think the level of communication on our side is really, really important because we don't have that data."

"To F1 having all this data is just another day, but to me its like 'holy cow'! How would it change NASCAR? Would it make racing better? I don't know. It would take some of the suspense I think away, and I hate to say it but also some of the calculated guesswork out of our day to day, which I think makes NASCAR a little more difficult than others because of that element. I think it also brings some fun and excitement, not really knowing sometimes."
Recently, there has been talk in the paddock around Romain Grosjean taking interest in driving a stock car, so who better to ask which new skills he thought would be needed to get in order to cope with a new experience on track?
"I don't know Romain or his driving style that well, some drivers are very adaptable, and some it takes longer. I think that him getting in one of our cars and having to learn the weight and how much those car move and roll compared to [F1] – that's a very unsettling feeling. Our cars don't feel planted like these cars do, so I think that would be a really big adjustment for him."