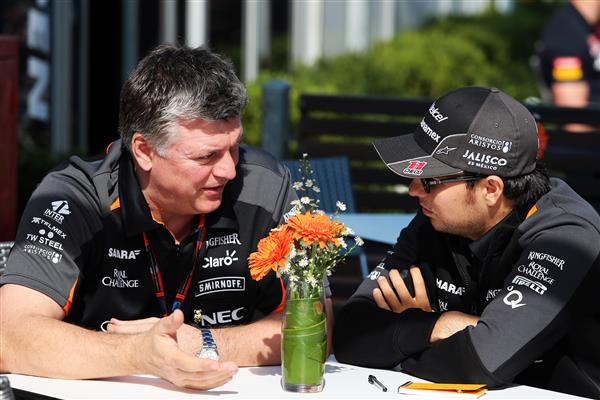 After meeting Sahara Force India's COO Otmar Szafnauer at last year's USGP, he kindly agreed to respond to a few questions about Formula 1 from his perspective as an American working in the sport, along with a few general questions of American interest. While meant to post between the '14 and '15 seasons, this interview contains answers as relevant then as they are today as Formula 1 returns to North America this weekend.
Otmar earned a BS in electrical engineering and Masters in business and finance in his home state of Michigan and began his career at Ford, attending the Jim Russell Racing School and racing Formula Ford soon afterwards. While working at Ford, he met Adrian Reynard, who appointed him Operations Director at BAR in 1998, and eventually ended up working for Honda in the sport. In 2008, Otmar founded Soft Pauer, creators of the first official F1 timing app, which was later acquired by Formula One Digital Media Ltd.
Since 2009, Szafnauer has been a member of the Sahara Force India F1 Team, and currently leads as the teams Chief Operating Officer, one of the highest positions held by an American in Formula 1 over the past several years. Special thanks again to Otmar Szafnauer and Sahara Force India F1 Team.
Coming to Austin, how different does it feel for you to be racing in front of a home audience?
I always enjoy going back home and it's great to see how Austin has truly embraced the race and given Formula One such a warm welcome. It's already become one of the most popular races with fans, the teams and the media. That's due in part to the enthusiasm of the city and everything that surrounds the event. In my mind it's essential that Formula One embraces this passion and builds on it to establish this race for many years to come. I would even suggest there needs to be more than one race in the United States – simply because of the size of the country and its importance to the commercial partners involved in Formula One.
How do you see the American and European racing culture coming together in America?
In truth the cultures are not that different and I think they have grown closer over time. Formula One has always had a long history in America and the success of the Austin race shows the huge level of interest. Of course, we are very different from NASCAR, but I think the American public enjoy the international flavour of Formula One.
Softpauer and the official F1 Timing App has risen to be a big part of Formula 1's offerings and for many fans it's the ultimate second screen experience watching live races. How did you find working with a software team alongside your duties at Sahara Force India? What were the similarities/differences?
It certainly presented me with a different challenge, but one that has proved to be very enjoyable. The main difference is the scale of the team working on the App compared to our Formula One Team. Instead of directing an organisation of 380 people, the App team is made up of eight people. In terms of the similarities, there are many – for example the App is interested in displaying Formula One car data in a coherent and consumable way, which is the same challenge facing our engineers. Another similarity has been working to tight deadlines and developing new technology – that's common to software development and Formula One design.
Americans are used to among other things, American competitors, and usually more engagement with fans by athletes and teams alike. What fundamental changes would you create within F1 and between teams to better align interests for fans?
You're right to say that an American driver in Formula One would help promote the sport better in the United States. I'm sure we will soon have another American on the Formula One grid, but it's worth remembering that there are lots of American engineers, designers and mechanics already working in the sport. There are lessons to be learned from American sports in terms of giving fans greater access and opening up to fans. These are certainly high on our agenda going forward.
Do you have any thoughts for Americans interested in building their CV to work with an F1 team?
The best advice is to get as much experience as possible, especially in a racing environment. So that means working with a race team in parallel to your studies. Not only will that help budding engineers understand if they enjoy the pressures and challenges of racing, it shows determination and commitment which is what we look for when going through the recruitment process.
Although you are spending most of your time in Europe now, are you still following American sports? Any thoughts for the die-hard F1 fans in America getting up at 4am to watch a live race?
When I was growing up in Michigan I played a great deal of sport and I try to keep updated with all kinds of American sports. As for those die-hard fans, I always think of my friends back home who wake up at ridiculous hours to watch us race. I think it's best to watch live because you feel more connected and involved. You simply can't beat live sport.
Would the team ever consider a run up Pikes Peak now that it's paved?
No, it's not something we could consider. I'm sure it would generate huge interest, but it would require a heavily adapted car to be able to make an attempt. Also, to be successful in Formula One, you must concentrate all your resources on the task at hand.