Ahead of an official announcement due Dec. 6th from the FIA, Formula 1 this morning released the 2014 race calendar:
March 16th:  Australia
March 30th:  Malaysia
April 6th:  Bahrain
April 20th:  China
May 11th:  Spain
May 25th:  Monaco
June 8th:  Canada
June 22nd:  Austria
July 6th:  Great Britain
July 20th:  Germany
July 27th:  Hungary
August 24th:  Belgium
September 7th:  Italy
September 21st:  Singapore
October 5th:  Japan
October 12th:  Russia
November 2nd:  United States
November 9th:  Brazil
November 23rd:  Abu Dhabi
Despite hopes of two new races in North America, both New Jersey and Mexico have been removed from an earlier provisional calendar.  The Grand Prix of America has been the focal point of an 'on again, off again' series of headlines in recent months, and major construction work at the Port Imperial circuit has recently come to a winter halt despite hopes a 2014 race would take place.
GP of America's race promoter and chief executive Leo Hindery Jr. has made a statement regarding the race in New Jersey:
"Bringing a world-class race to the world's largest media market is a huge undertaking that has required balancing construction of our road course, without tapping any public money, with the sport's own timing demands…"
Also commenting today was Bernie Ecclestone, a strong supporter of another race in America:
"There is great demand for a race in New Jersey and I have no doubt we'll be racing at Port Imperial in 2015 … New races can take many years to get started, but there is significant momentum and we are close to realizing a New York City F1 race."
Ecclestone has also been quoted recently as saying this year there have been "…lots and lots and lots of reasons" why the race won't happen in 2014, so it's fair to say that the past year has felt a bit like Formula 1 'rope-a-dope' for fans in a perpetual state of 'will it or won't it' as they patiently await a date.
Knowing this week's announcement about the GP of America would take some celebrating or hard evidence of progress, it was time for a visit to the Port Imperial circuit just before the Austin race in November.  Against New Jersey's fall colors, it didn't take long to find clear signs of construction progress at various parts around the circuit, including this service area along Pershing Road built into the Hudson Palisades: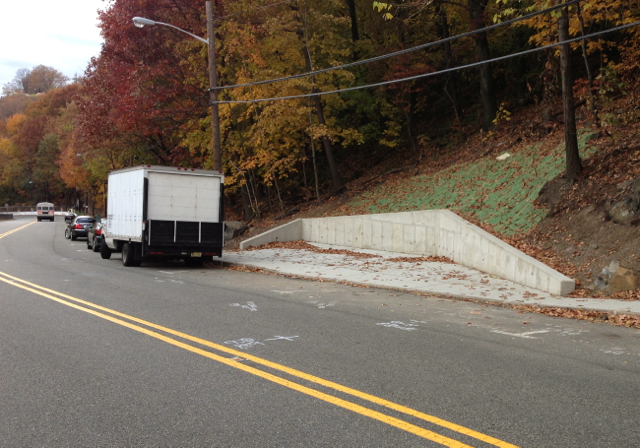 Service areas like this one along a course are a part of the race infrastructure and can be for placing a wrecked car off line, cranes, course/saftey workers, etc.  As a documented feature of the course, this is a purpose built retaining wall and concrete pad located in an area that for doubters is just too inconveniently placed here to be a bus stop.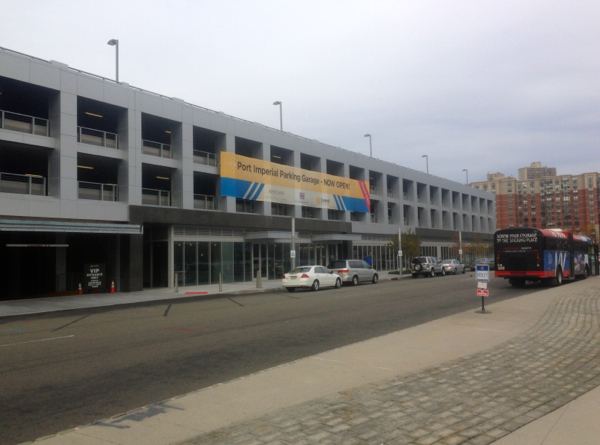 The Port Imperial parking garage has been completed and is now open, this is definitely progress since a visit to the circuit in May of 2012.  Designed to serve as a main pitlane building, the garage is located across from the ferry terminal where team hospitality and paddock club events can be held in the structure and expansive roof area above the main straight.  Currently team stall fronts are enclosed in glass.
While more work has to take place for a normal urban sidewalk setting to be transformed into a main straight, how can F1 fans see more progress is being made on the circuit in the meantime?
Keep a lookout along Pershing Road and JFK boulevard East, where road crews will knocking down the crowned surface with heavy machinery to level the road.

Utilities buried underground have already been marked along the relevant portions of the circuit for excavation work – likely starting points for more work in the spring.

Crews moving high power lines and poles around the circuit and near the hairpin at Anthony M. Defino Way/River Road are more clues that more GP-specific work is underway.