In arguably the most competitive sports and entertainment television markets in the world, Formula One got its start to the 2018 season off on shaky footing.
For West coast viewing in America, where I moderate a group that gathers to follow the season together, the Australian GP weekend's live coverage finds a larger audience with most sessions starting between 10 and 11 pm. The lights went out at 10:10 pm Saturday night for the season opener, which meant our watch party in San Francisco drew a sizable crowd with over 50 fans packed into a local sports bar to watch live.
The San Francisco Formula 1 group has been following F1 together since 2005, and it's been a pleasure meeting and interacting with fellow F1 fans whose passion and excitement for the sport has meant a commitment to waking up at strange hours while avoiding spoilers.
There was more than the usual anticipation for this year's Australian GP in the group, and with the return of broadcaster ESPN, many were interested to learn who they'd be sharing part of their weekends with going forward after NBCSN's departure. In the paddock, Will Buxton and Jason Swales covered a disproportionate amount every race, updating fans in bursts between advertisements before, during and after every race, with remote commentary from Leigh Diffey, Steve Matchett and David Hobbs.
Who would take the place of all these people? Fans could only wonder as the bottom half of the hour approached and they waited for new presenters and a new pre-race show "Formula 1: On The Grid" to start. What ensued were atmosphere shots, no graphics and no commentary.
Naturally, twitter exploded:
Uh oh – no sound here from @ESPN's On The Grid – there we go – air guns but no commentary . . . #F1 @wbuxtonofficial

— F1 in America (@F1US) March 25, 2018
After viewers looked upon a sunny afternoon Melbourne and an empty circuit, they were treated to a commercial break, then the second attempt at live footage featuring crowd shots again with no commentary or graphics. Absent any contribution to original content to this point, ESPN then chose to re-run an episode of E:60's presentation of the 20 most dominant NBA teams.
It happens sometimes in the sport, when a driver pulls in to box and his crew is nowhere to be seen. Usually the radios bring everyone to the car within seconds, but this night it was 19 minutes and 25 seconds until fans finally saw (and heard) two English chaps in the form of 1996 Drivers' Champion Damon Hill and Simon Lazenby from Sky F1 appear on the grid, mid-sentence. Sky's portion of the show had now begun, without any introduction, and it was clear to fans in America that they were now watching a new team of presenters without the benefit of any opening remarks, explanation or acknowledgments to a new audience.
ESPN's choice to use Sky's coverage had been announced just before the weekend, and as the practice sessions got started, I was interested to learn how many American based F1 viewers were new to Sky's presenters, so in a twitter poll during the weekend over 250 respondents watching F1 in the US were asked if had they ever seen a Sky Formula 1 broadcast. Roughly half prior to the 2018 season replied they had never seen Sky F1's coverage of the sport.
This weekend is the first time many viewers have seen the @SkySportsF1 team call @F1.

For only those living in the USA, have you seen Sky coverage before?

— F1 in America (@F1US) March 23, 2018
Sky did their usual stellar job with a seasoned team of presenters and crew, a solid grid walk from Martin Brundle and a routine start began the evening, but just how would ESPN go to commercial, and then catch everyone up on the action they missed? Eight minutes after the start, we found out as the first break featured side by side advertising as Sergei Sirotkin pulled over in his Williams, speaking with Head of Vehicle Performance Rob Smedley on lap 6.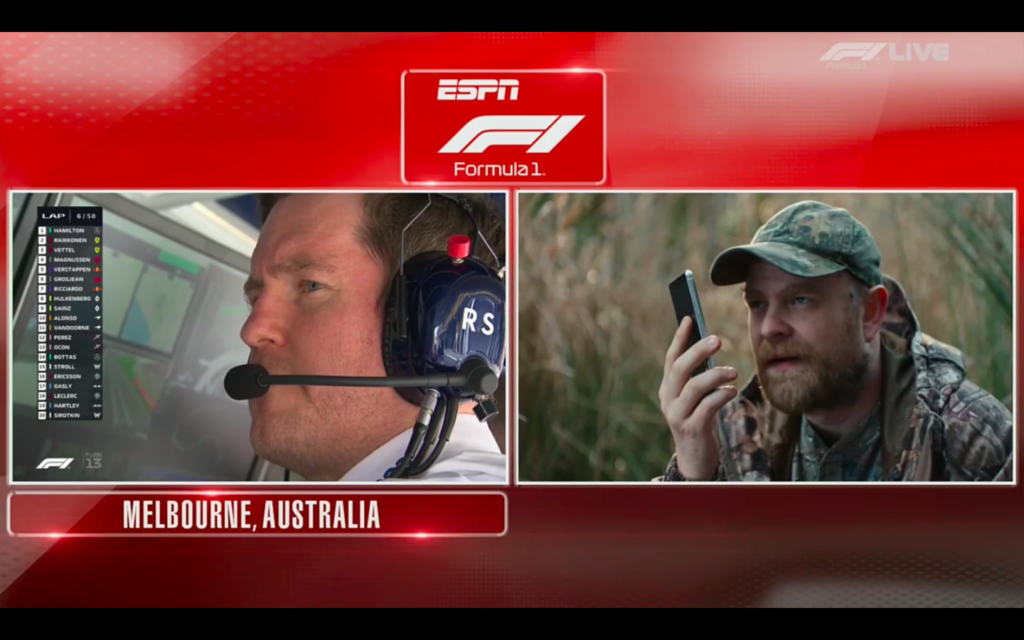 With Busch beer on offer in the commercial and fans wondering what had happened on Sirotkin's car, Smedley mouthed with his driver via headset while the audience listened to a confused hunter on hold repeating "representative" while staring blankly into the distance. We all could suddenly relate at that moment.
The advertisements alternated between full screen and muted side-by-side coverage, and as if by luck, managed to stay on the race at its crux when Vettel overtook Hamilton in the pits. It's fair to say ESPN's coverage of the season opener was tough to watch, and post race interview coverage was nonexistent.
Keep in mind that SKY F1's team already produces an award-winning show, which ESPN repurposed for an American F1 audience. What viewing audiences saw was the result of a seemingly very last minute attempt by ESPN, not too different from when a student is assigned to write 1,000 words on a subject, leaves it to the last minute, and then copies Wikipedia's entry. After cutting and pasting 1,200 words into a 1,000-word maximum answer space with no edits, it's obvious what's going on to the reader.
A source of frustration felt by many watching the broadcast in San Francisco last weekend was that there had been an entire offseason to sort out these kinds of difficulties, and plenty of available suggestions (and consultants) from the folks at NBCSN who've come up against the same issues and heard their share of similar complaints. The problem (we hope) would appear to have less to do with an ability to implement the necessary changes, and more with ESPN's ability to generate production.
Thankfully, ESPN issued a public apology for their broadcast:
We deeply apologize to Formula 1 fans for the technical issues that caused them to miss the first 20 minutes of the pre-race show for the Australian Grand Prix. We are sorry that our first F1 telecast did not go as smoothly as we would have liked but we are taking steps to prevent those same issues from occurring in the future. We thank the fans for watching and for their incredible passion for Formula 1.
ESPN wasn't the only ones to experience technical difficulties down under, and as the screenshot below shows, FOM's new graphics package came up short as well. For ESPN's part, online feedback has been vocal and creative with suggestions from ticker-style updates during advertisements and ticker-style advertisements during the race without interruption to other forms of commentary to maintain continuity for viewers. ESPN will have to do their homework, making changes ahead of Bahrain, while. Two weeks should be plenty of time to sketch an outline if they're prepared to commit the resources.