Kim Stevens is the trackside aerodynamicist for Mercedes AMG Petronas F1 team, responsible for collecting and measuring the effectiveness of the latest aero upgrades and improvements at each race weekend. With 850 team members at the team's UK headquarters in Brackley and 550 at Mercedes' Brixton facility, each acts in concert with the 60 team members each race weekend. The measurements she helps collect provides some of the first real world data that the team can use to understand the cars' performance on the circuit and improve upon in future car development.
A graduate of Ohio State University, Kim's path to Formula 1 began with a passion for speed and motion where she was part of the engineering school's 'Buckeye Bullet' team.
I had the chance to meet with Kim at the USGP in 2016, where she sat down to talk about her love of cars from a young age and a love of Formula 1. Her journey to the sport is an example for more others who are interested in creating their own opportunities in racing, and her enthusiasm and passion for the work and the sport are truly remarkable:
So I've always been into fast cars, not necessarily racing cars, but exotic cars like Lamborghinis, since I was very tiny. Nobody knows why, really. Nobody else in my family is, but there is just something that just really draws me to cars, going fast, and the sound.

I've always been passionate about cars, and airplanes, always been quite interested in airplanes. When I was little it became clear I was pretty good at math, so the aerodynamics thing was kind of a natural choice, really. I didn't really have kind of an epiphany moment, it was more well, that sounds like a good thing to study in school.

Whilst I was learning, I started to learn CFD (computational fluid dynamics, a method of studying how objects move through a medium) because I was involved in a student project in school called the 'Buckeye Bullet' [video], an electric land speed record car.

It's a project that's been ongoing for over a decade now, with various iterations of the car, and two of the vehicles I worked on set land speed records both over 300 mph on salt flats. So, in order to design the body of these cars I needed a bit of help, with practical knowledge and not just the theoretical stuff you learn with a normal degree.

In learning CFD, that's when it became super clear that there was a good opportunity to apply this to motorsport. It all just happened kind of serendipitously. I got my BSE in aerospace engineering, so once I was there, I worked on the land speed record car while I was in school. I also did a student co-op program at Honda R&D in America, so that's actually where I learned a lot of the practical applications of aerodynamics, through my job with Honda.

I took a quarter off from school to work at Honda, and I liked earning a living there and they liked me working there so much that I ended up working with Honda pretty much for 3 1/2 years straight just a few days a week while I was still in school. It was pretty natural for me, because Honda was still in Formula 1 while I was still in school, so there was that link to the sport.

Honda had a subcontractor for their CFD department that worked closely with the Buckeye Bullet who knew that I loved working in motorsport. It wasn't just watching the races that I liked, I was actually getting amongst it. It was all pretty natural. It was through my work with Honda that I got my first job at Sauber F1 Team.

There was an engineer that we worked with that my boss ended up knowing very well from Honda CFD who started to work at Sauber. That was my most direct link to F1, so when I was graduating, my CV was sent to Sauber with a note from my boss at Honda explaining that I was super keen on F1, and to 'give her a look'. The rest is kind of history.

I interviewed for Sauber in November of 2007, signed a contract within a month, then graduated in June and three weeks later started working in Switzerland.
Kim's trajectory was fairly swift to the sport, so of all the motorsport opportunities here in America, especially Indycar, what was it about Formula 1 that drew her to live so far away from home?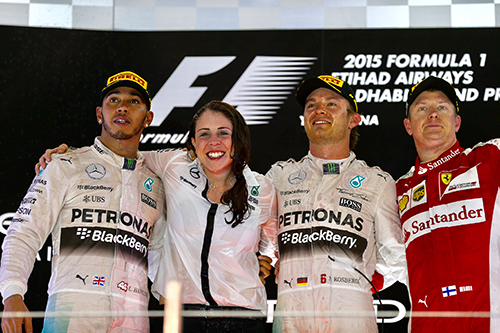 For me it was about Formula 1 because it became quite clear through working with the folks at Honda F1 that the sport had the best resources, the cars are the fastest, they go all over the world, it was always going to be F1 for me, if it could be. So it was really quite cool the way it worked out that it did.
As one of the few visible Americans in the sport, how did it feel to be racing in front of a home audience?
I really like it, it's always nice to come and see Americans that actually understand what it is that I do and why I might do it, because there were a lot of people questioning when I was at Ohio State and packing up my house to move to Switzerland. My friends were like, 'Why are you going to move to Switzerland to work on racing cars? Why don't you go to California?'

I told them 'No, you don't understand, you don't have Formula 1 in California. They look like Indycars, but no, they're not Indycars. Yes they are open wheel cars, but they are not [Formula 1 cars].'

So I really do like coming here, and the fans that have embraced F1 here properly get it, and they know why.

It is super exciting, and I wear my cowboy boots when the cars are running, which is quite nice – I get a little bit of a pass to be super American, and for once we're surrounded by people that talk like me rather than like all the other English people in the team. Yeah, it's good!
For other Americans interested in getting involved in the sport, Kim had a few thoughts:
To be honest, in this business, especially to get in the first time, it's all about who you know.

What I've told people, and students have asked me, is just get involved with anything you can that's motorsport related. If you work hard enough, and show enough passion, somebody somewhere will notice, and try to help you out.
Programs like Formula SAE and Formula Student are one way young engineers can gain valuable experience working towards a career in motorsport, but with so many participants in these, Kim mentioned it always helps to be involved in something a little special to help stand out.
At Ohio State there were 60 people working on the Formula Student team, and it was hard to stand out as doing something special with so many teams and people involved, I'm sure in Formula 1 they get a lot of CV's that list Formula Student experience.

What I would actually recommend is to try to find something special. There were 12 of us on the Buckeye Bullet at a time. When I had my interview at Sauber, the head of CFD and the head of aero were really impressed by that project, and I think with Formula Student, [Formula 1 teams] have seen it all before.

Whilst there is some really interesting stuff happening there, unless you do something to spectacularly stand out there, it's hard to get noticed. Nothing against that program, it is really cool, and you learn a lot, but again, so many people try to get jobs in Formula 1 that you've really got to find something special, and the more you get involved in something, the better your chances are, especially finding links in industries that might somehow feed into Formula 1.
Kim went on to explain:
Let's look at which companies represent other companies, for example: There's some aerodynamics consultancies I know of in Columbus, Ohio that whilst they don't necessarily work for someone in Formula 1 right now, they have a lot of Formula 1 personnel. So it's about trying to find anything you can that's motorsport related that interests you that you think you might excel in, and then trying to use that network to find your way in.

Formula 1 cars are the fastest in the world, you can show so many statistics on how quickly a Formula 1 car can go around a corner. You can compare that, for example, to [the Formula 1] safety car, which is a fantastic sports car. Most people would kill to have an AMG GT (Formula 1's current safety car), but then you look at how that goes around circuit of the Americas compared to a Formula 1 car – it doesn't come close. I think that's a great way to sell Formula 1 to Americans, just how amazing the cars are, but also, its a super dynamic, global fast-paced sport.

[Americans] love sports like basketball, whilst many Europeans comment that American football is a bit of a slow game. It's not, when you actually understand the game it's quite quick. They slow it down a little bit to give the guys a chance to catch their breath, but it's a cool, fast-paced game. To sell some of that speed and intensity, I think, blends well with the American style with what Americans like.
That speed and intensity isn't just what fans see on the track, either, as Kim explained:
I heard from an old friend at the circuit today who texted me and wanted to know if I had some time between 10 and 3, and I had to let them know I was working flat out. Pretty much between when we land on a Tuesday night and fly out on a Sunday or Monday, I'm busy. I think if Americans can see the behind the scenes stuff, that would help also.

Everyone sees a fast pit stop, but they don't necessarily know how much intensity goes into it. You hear a lot about how often NBA and NFL players practice in training camp, and we have a lot of the same stuff. For me Formula 1 is the professional sport that a lot of people can participate in who don't need to be physically gifted, so for me this is my NBA or NFL, which I think you can sell, and market the hell out of that to the American people, I think.

It is such an exciting industry, and that goes beyond how quick the cars are or how quickly we can change the tires or what superstars the drivers are, it's really intense to the core. It's super American, I would say.
Kim shared the podium with Nico and Lewis in 2015 (pictured above, courtesy Sutton Images) when she accepted the winning constructor's trophy on behalf of the team in Abu Dhabi, and had some thoughts on the aftermath after getting doused in the celebrations with Lewis and Nico:
I lucked out in Abu Dhabi because its a Muslim country and they use rosewater, so my eyes didn't sting quite so badly, but to be honest after the podium you're on cloud nine, but you do smell bad, let me tell you what!

You're just soaked in it, and of course the team packs up and we stay around to help the guys pack up the garage, so it's not like you go grab a shower. So you're just sticky, and hot and a bit smelly for a while, but it's great. That's part of it. It's just so extreme, that we cover ourselves in champagne and then get back to work until the job's done.